_

_

_

-


LeoD (Leo Ducroiset)- Creator of contemporary painted totems
ABOUT ME...
After 5 years at the École des Beaux-Arts in Moulins-sur-Allier between 1962 and 1966 and 2 years at the Paris Beaux-Arts , I expressed myself through painting until 1975. Then, for three years, I restored paintings, in my own workshop. In 1983, I dedicated my time to architectural design and, in 1987, I became an interior design and architectural antics expert to the Alliance Européenne des Experts (European Experts Alliance).
Along with much travelling since 1967, for which I still have a passion, this career led me, in 2009, to a desire to transcript the memory of my impressions and experiences through painting on eroded oak wood. A sort of « travelling notes » painted in touches of colour… A visual music that leads us to the heart, the origins, the richness of the many people on earth.
THE WORKSHOP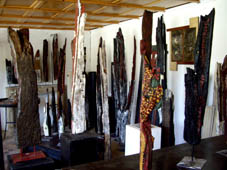 _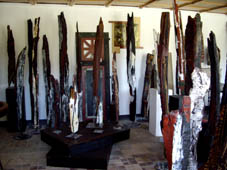 _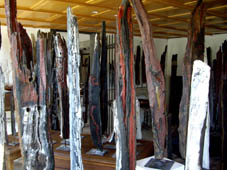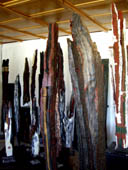 _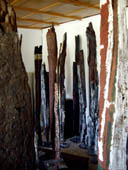 _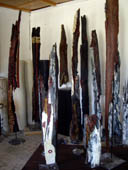 _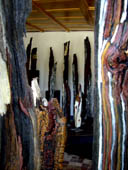 PRESENTATION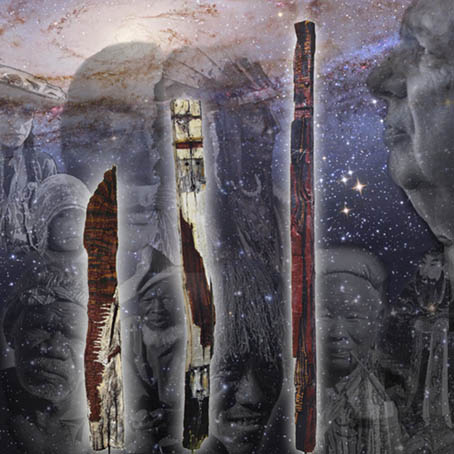 Old oak wood
Left aside by the railroad history
Tired, deformed, shattered…
Your dryness becomes a source
In the eye recognising you
Under the hand running down you
And painting on your ripples
Somme improbable language
Drawn from the world's roots.
Tomorrow, erected once again,
You'll be Totems.
Tattooed with colours
Streaked with rhythms and dances
Dressed, inhabited, recharged
Alive and unique
And what time took away from you
Will be glorified
In celebration to your new life.

Going through the meanders of your rich and winding existence, Leo D. found you, took you, approached you, observed you, questioned you, decrypted you and tamed you .
The tip of his brushes wending its way through your lines, your geometries, your splinters and your knots reveals your story, your hidden riches, your force fields, your weaknesses, your heritage…
Each of these encounters is a mystery, a wandering, a doubt, an adventure, a latent creation, a dialogue, a search for meaning…
And especially an irrepressible desire to bring you back to life, to put you back on stage by engraving the messages, the movements and the intimist compositions you inspire on the hide of life.
Following an ethnical and contemporary approach, Leo D. transforms your rebirth into his passion and your existence into his expression.
CymeR
________________________________________________________________________________

From the origins, man has planted poles in the ground. Was he trying to attract the beneficial fire of the heavens, the benevolence of the Gods.
To mark a territory, to welcome, to hunt, to reassure, to threaten, there isn't a tribe or a civilisation without totems.
Representing benevolent ancestors, protecting and nourishing animal, the totem whether it be wood, stone or metal, is part of our subconscious, of our primal memory.
After studying at the Beaux-Arts in Paris, Léo D., mad of culture and travel, has chosen to go and discover the world like an inspired ethnologist or a wandering "Kerouac".
A compulsive antic dealer, he has collected the expression of quantities of cultures.
Nowadays, he is working from his painter-sculptor workshop, revealing and sharing with us what he has retained from his wandering, that is to say the essential: the original Totem.
Through his apparently primitive totems, we are sharing his dreams, his voyages, his adventures, his worries and his hopes.


Willy Huybrechts.
_______________________________________________________________________________________
Léo D. has been a great dealer of architectural antics never forgetting, in the midst of this turbulent business that he had been, at sixteen, one of the most promising students of the Paris Beaux-Arts.
His passion for painting has never left him…
At nearly sixty, he has chosen to give this passion a better part in his life.
One day, his business took him by chance to a pile of stocked up, forgotten, weathered pieces of wood. Trees being one of his all time love, the discovery of what evoked a huge pyre to him moved him deeply.
They were, in fact, some old rail sleepers, most probably dating from the early days of French railway, that had been discarded, "reformed". At first formatted, cut, treated for a better strength, this wood was, at last, left to its own wild course by time and man's neglect; in some ways, a rebirth…
Léo D. started a dialogue with these tree pieces and, finding himself in a creative instinct, without intervening at all on their shape but giving them their verticality back, he erected in his workshop a forest of totems, each adorned with the painting it inspired to him.